RSC Update - Term 4, Week 1
With summer fast approaching, there is no better time to ensure your students have the first aid knowledge they need to act with confidence in case of an emergency.
Aimed at K-Grade 2, the Elastoplast Kids First Aid Program was developed in collaboration with ACHPER professionals to cement key first aid and emergency response knowledge early on. The program's free and the Australian Curriculum-aligned lesson plans and activity sheets focus on key first aid knowledge areas – recognising and responding to unsafe situations, treating minor injuries and sending for help.
Instilling these important lessons early on will help to increase the likelihood that children will retain and use their first aid knowledge when faced with an emergency.
This term, the program has teamed up with Hart Sport; Australian made sports equipment, to help kids stay active. The first 50 schools to register for the Elastoplast Kids First Aid Program between 17 October and 30 November will receive a $100 Hart Sport voucher!
Once registered, we'll send over your resources, and we'll make sure they get to you before the end of term.
What does the program include?
Lesson Plans. Clear lesson plans with time estimates, thought starters and fun ideas to help you plan your term. Developed with teachers, for teachers.
Activity Sheets. Colourful activity sheets to keep students engaged and to help you assess their learning as you go.
1st First Aid Certificate. Printed certificates to celebrate your students' achievement when they have completed the unit material.
Samples. Fun product samples for in-classroom demonstrations and activities.
Free and ready to go. No downloading or printing required; simply register for the program and we'll send everything straight to you!
Statewide
North
North West
South
Primary
School Opportunity
Website: https://www.stjohntas.org.au/first-aid-in-schools/
Do your students know what to do in an emergency?
St John Ambulance Tasmania is committed to promoting the importance of first aid in the community and believes that there is no better place to start than in our schools. Every child, should have access to vital first aid knowledge and with the First Aid in Schools program, this is possible.
In 2021, we delivered 12,992 students the lifesaving skills of first aid.
With our fun, engaging, and informative activities, your students will gain the knowledge of the vital skills of First Aid. Your students will be encouraged to act with confidence, recognise and take action in an emergency. Our lessons are designed to really stick, and that is not just the Band-Aids!
Not only will your students be a part of a more resilient community, they will have learned valuable life skills that will help not only themselves but have the potential to help countless others later in life.
The five education streams include:
Kinder - Prep 30 mins
Year 1 to Year 2, 45mins
Year 3 & 4, 45 mins
Year 5 & 6, 1 hour
Year 7 & 8, 1 hour
For more information and/or an application form, please make contact with our team.
Statewide
North
North West
South
Primary
Secondary
School Opportunity
Join Water Polo Tasmania's Term 4 Flippa Ball roster now!
Team entries due 25 October - please provide as much detail as possible when registering including player names, coach name and grade level (i.e. grade 3/4 or 5/6).
Please note each coach will be required to provide a copy of their WWVP card if they are a new coach to Flippa Ball this year.
Of note: if schools are unable to enter team/s, parents are welcome to organise a team and enter.
Please contact Nicole to register a team or should you have any queries.
South
Primary
School Opportunity
There is no better time to book class excursion than Tem 4, and what better place to go on a school excusrions than Swisherr Hoops Academy.
Based in the heart of the Hobart CBD in the old K&D Building, Swisherr Hoops Academy is the perfect place to bring your class of some end of year fun!
Whether you are looking for some sturcture or just wanting to let off some steam, Tasmania's premier indoor basketball facility provides a safe indoor environment for players of all ages and abilities.

Spaces are filling up quick, so be sure to book in now to avoid disappointment.
Contact Swisherr directly by phone on 03 6128 3377 or by email at admin@swisherr.com.
South
Primary
Secondary
College
School Opportunity
The Southern Tasmanian Table Tennis Association is pleased to once again offer a range of opportunities for juniors and schools during Term 4.
Three program options include:
The stadium is available for hire to school groups, with or without coaching assistance, as in previous terms.
Monday evening roster (school teams and individual nominations welcome), 5.30-7.00pm. This will comprise three divisions:

Experienced
Improvers
Beginners

Wednesday afternoon training and social play, 3.30-5.00 pm program. This is a more informal mix of coaching, competitive games and fun activities.
Download the flyer below or contact Jamie for full details or if you have any queries.
South
All Ages
Primary
Secondary
College
School Opportunity
Community Opportunity
Australia has one of the best health systems in the world, yet one in two of us lives with a long-term health condition.
ABC Your Move explores Australia's collective and individual health and fitness to better understand and inspire us - one small change can make a big difference.
Go to Your Move to view all related videos and programs.
North
North West
South
All Ages
College
Enrol in the PLI's range of self-paced professional learning courses for all early years staff (including Teacher Assistants) to access.
Schools and CFLCs looking for quality learning opportunities for staff on student free days or at other times, may like to consider supporting staff to access the following:
These courses require prior enrolment through the PLI:
This course can be accessed anytime:
The modules within each course, are generally between 20–30 minutes duration and may be completed individually or in a team. Educators can complete one module as a 'Tuning In' for your professional learning program, or can work though several modules.
If you need assistance to tailor the professional learning needs of your staff please email Early.Learning@education.tas.gov.au.
Contact:
North
North West
South
Primary
Professional Learning
The Healthy Tasmania Fund
is a grants program for health and wellbeing in Tasmania. The Fund supports the work of local government and community organisations that are well placed to know their community needs and priorities.
​Four grant streams:
Step Forward – grants up to $5,000 – applications are now open until Dec 14!
Healthy Focus – grants from $20,000 to $100,000 – applications for Round 1 are now open until Dec 14!
Lift Local – grants of $20,000 for councils (more details to come)
Healthy Together – grants of $300,000 (more details to come)
Find out more about each grant stream here.

Visit the Healthy Tasmania Grants Programs website for full details.
North
North West
South
All Ages
Primary
Secondary
College
Funding
Community Opportunity
Apply now for Round 10 of the Para-sport Equipment Fund.
Apply Now- applications close Friday 11 November 2022.
What is the Para-sport Equipment Fund
The Para-sport Equipment Fund is a joint initiative of Paralympics Australia and Sport Australia, designed to provide opportunities for Australians with disabilities to participate and compete in Para-sport by addressing some of the most significant challenges faced by Para-athletes and programs; the costs associated with obtaining Para-sport equipment, which in many cases must be customised for the participant.
Delivered in collaboration with Paralympics Australia's key stakeholders, the fund aims to offer a range of equipment access solutions for Para-athletes and participation programs to enable more people with a disability to participate in Para-Sport.
The primary focus of the program is to support individuals and programs at the entry participation level, however Para-athletes and programs with a focus of higher levels within the pathway may also be considered.
See the eligibility requirements and the selection process for full details.
North
North West
South
All Ages
Primary
Secondary
College
Funding
Community Opportunity
29 Oct 2022 - 30 Oct 2022
Domain Athletics Centre, Hobart,
Entries are now open for the 2022 Tasmanian All Schools Track and Field Championships at Hobart's Domain Athletics Centre on Sat-29 and Sun-30 Oct, 2022.
This competition is open to all school students in the U14, U16 and U18 Age Groups (as at 31 December 2022) and in 10yrs (born in 2012), 11yrs (born in 2011) and 12yrs (born in 2010) Age Groups.
IMPORTANT: Entry is by individual athletes. Student athletes should make sure they read the event information before entering.
For information on how to enter and to read more about the event, click on the below link to the Athletics Tasmania website:
https://www.tasathletics.org.au/events/158312/ - Registrations close 25-Oct.
SCHOOLS PLEASE NOTE: Athletics Tasmania would like to thank schools, school sports co-ordinators and HPE staff for sharing the above information with students. Entry is by individual athletes, with no expectation that schools or school staff be involved in the event.
All secondary and college students in the local area are invited to compete in the upcoming tournament at Howrah's first class Indoor Bowls Facility!
South
Secondary
College
School Opportunity
SAFER. SMARTER. STRONGER.
Between 21-27 November 2022, SWIM Schools Australia is holding its annual SWIMSAFER Week.

Nearly 500 registered swim schools will participate in the campaign, and coordinate educational activities for students to gain vital water safety skills.

SWIM Schools Australia advocates that swimming year-round, learning and abiding by vital water safety skills, and participating in the SWIMSAFER Week will not only help kids become safer, smarter and stronger in the water, but in everyday life as well.
Swim It Forward is a charitable initiative by Swim Australia for the benefit of those who cannot afford regular swimming lessons. Swim it Forward's mission is to save lives by making learn to swim lessons accessible to as many children as possible across Australia. To be eligible for FREE lessons, applicants:
Must not already be currently enrolled in swimming lessons.

A current Health Care Card issued by Services Australia must be held and provided at any time upon request.

The selected Swim School must be a registered member with Swim Australia, found at

https://swimsafer.org.au/find-a-swim-school, with d

ays and times for Swimming Lessons are Subject to Swim School availability.

By submitting the application form, permission is granted for the dependant to potentially be included in multimedia material.

Swim Australia cannot guarantee that completing this form will result in successful qualification for funding, and your application will be pending approval.
Visit the SwimSAFER website for full details and to apply.
North
North West
South
All Ages
Primary
Secondary
College
School Opportunity
Community Opportunity
The Northern Tasmania Softball Association is excited to annouce we will be adopting Softball Australia's grassroots program Home Run Heroes and running the following 6 week programs:
Sidekicks for kids - ages 4-7yrs
Super Heroes for kids - ages 8-12yrs
Sidekicks will commence on Wednesday the 9/11/2022 at 4pm at Churchill Park Sports Complex and Super Heroes will commence on Saturday 12/11/2022 at 9am also at Churchill park.
For more information please contact James, or visit the Launceston Home Run Heroes Facebook Page.
Ticket to Play vouchers are redeemable for the program!
North
Primary
Community Opportunity
South
Primary
Community Opportunity
02 Nov 2022
Cornelian Bay,
Reminder - Registration close 25-Oct!
All Southern High Schools are invited to attend AFL Tasmania's AFL 9's Gala Day on Wednesday November 2 at Cornelian Bay Oval.
The event is open to Grade 9 & 10 students, with participants to be entered in Boys, Girls and Mixed Teams in Division 1 or 2.
AFL 9's is a fast, free-flowing games that involves 9 players on each team playing on a smaller field. Best of all, AFL 9's is non-contact with no tackling or bumping, making it suitable for everyone.
Games will be played in 2 x 20 halves, with each team to participate in multiple games.
Students are to bring their own boots/sandshoes and a water bottle, and school sports tops should also be worn.
See the printable flyer below to share with students and staff.
For more information about this format visit the Play AFL website or contact Linsey from AFL Tasmania on 0408 971 609 or Linsey.DaCosta@afl.com.au
Website: https://schoolstriathlonchallenge.com/

Entries due by Wed,
Week 1, Term 4 (
19-Oct)!
The STC is aimed at promoting healthy lifestyle choices to school students from grades 3–12, regardless of ability, sporting background or current lifestyle. Participation and enjoyment are at the foundation of this event.
Devonport
Wed 23-Nov: Grades 7-12

Thurs 24-Nov: Grades 3-6
Hobart
Thurs 1-Dec: Grades 7-12

Fri 2-Dec: Grades 3-6
Note: It would be greatly appreciated if entries are in by the end of Term 3 or through the school holidays if possible as there is one week less for preparation this year as well as Hobart Show Day and scheduled PL days early Term 4 which impact.
Key documents to download:
See the Schools Triathlon Challenge for all details including: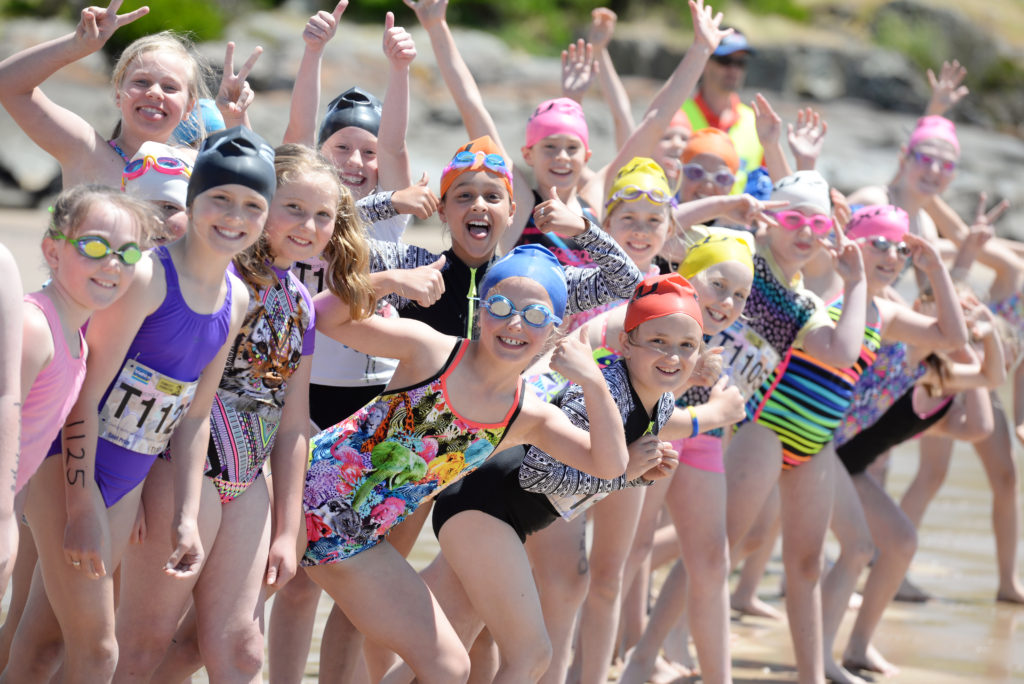 Promo Posters (A3 colour looks best!)

Entry Forms

FAQs

Course & transition maps

Timetables

Participation certificates

Traffic management (Hobart) and much more information!
Statewide
North
North West
South
Primary
Secondary
College
School Opportunity