2023 RSC Update - Term 1, Week 5
The AIS is proud to partner with Nestle to launch an engaging health and wellbeing program for Australian primary school students known as The Good Village AIS Problem Solvers Program.
This is an exciting opportunity for primary school students to undertake a project which encourages outside-the-box thinking and offers the chance to engage with an Australian athlete.
The program aims to teach students about what it takes to create a healthy, supportive and sustainable village of people through unpacking a challenge within Australian sport.
The free eight-week program can be completed over a 2, 4 or 8-week period and aligns with the Australian school curriculum while weaving in lessons in science, humanities, arts and economics.
The program is available to all Australian primary schools and can be tailored for Grades 1-6. While the program is designed to be student-led, teachers will also have access to free resources including a comprehensive teaching guide.
For further information about this program please contact:
athleteappearances@sportaus.gov.au
Statewide
North
North West
South
Primary
School Opportunity
Website: ride2school.com.au

National Ride2School Day is this Friday March 24!
Join Australia's biggest celebration of active travel and one of the best days on the school calendar. It is a day full of fun and colour where students, teachers and parents discover the joy of riding and kick-start healthy habits for the future!
To sign up for this free and fun event for your school, head to www.ride2school.com.au or email shaneh@bicyclenetwork.com.au.
The Ride2School Program's free Bicycle Education and ActiveMaps workshops are also free and available to all schools across Tasmania.
If you or your school have new bike riding infrastructure, want to get more students active in how they travel to school or want to ensure if student are riding they do it safely, please get in contact with Program Manager Shane Holland.
Statewide
North
North West
South
All Ages
Primary
Secondary
College
School Opportunity
A new Surfing Australia offering is making a splash in secondary schools from Term 1 2023, with the introduction of their Woolworths Teen SurfGroms program!
The Woolworths Teen SurfGroms program provides a learning environment where teenagers feel comfortable and connected with peers of a similar surfing ability.
Surfing Australia's Woolworths Teen SurfGroms program is available to secondary school students in years 7 and 8 through Sporting Schools. Visit the Surfing Australia page for more information and don't forget to apply now for Term 2 Sporting Schools funding before applications close on Friday 10-March!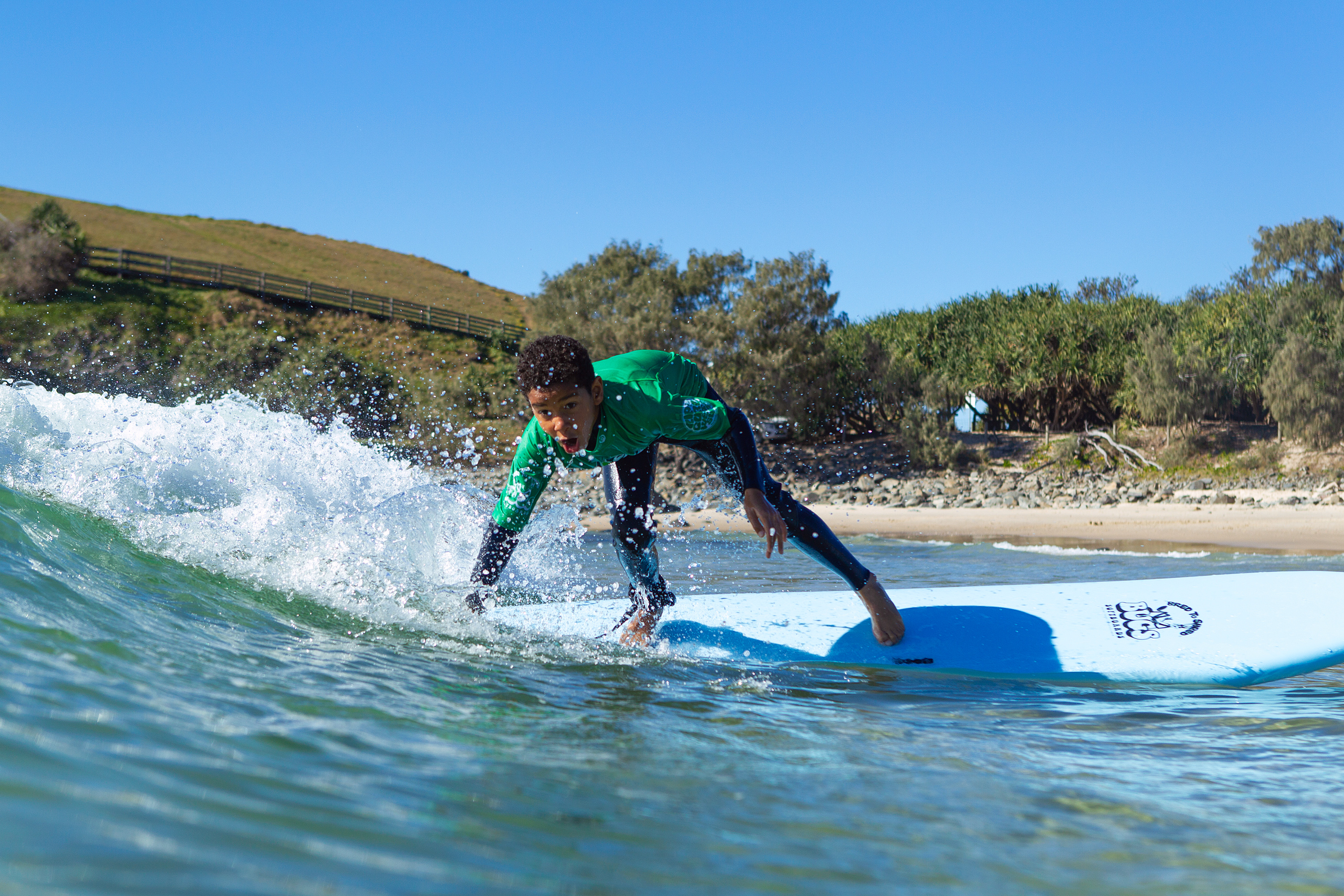 The teen program is more than learning to surf, it is designed to inspire young adults to love surfing and improve their skills, while building a relationship with the ocean, and growing their confidence and resilience.
The program focuses beyond the technical aspects of surfing, including basic surf rescue and ocean and environmental awareness.
Every Teen SurfGroms lesson is designed to create a positive and supportive learning environment, so every participant can experience the confidence and freedom of surfing for a lifetime.
All SurfGroms programs cover surf skills at five different ability levels - whilst the structure is consistent across all levels, students are able to progress to experience different elements to keep them interested and challenged.
Surf programs can be delivered in a one off 4-hour session or over multiple days and weeks, with programs running between 4-8 hours in length.
Statewide
North
North West
South
Secondary
School Opportunity
The YMCA Action Sports have been the leading providers of quality youth led Action Sports events such as Skateboarding, Scootering and BMX.

Our skateboarding program has exploded in popularity with our first year of school-based workshops being implemented into 307 and influencing 22,000 different participants across Australia between June and December of 2022!
The YMCA Action Sports partnered with the Department of Education to research how skateboarding affected students in the school context. We found that skateboarding actively targets and appeals to disengaged or physically inactive children and adolescent.
In fact, our skateboarding programs have been shown to increase the confidence, skills sets and social activity of these individuals who participate. This is due to offering a fun based nature of the activity rather than competitive based activity like traditional sports. Furthermore, our coaches have been cited as being able to foster longer term social connections that ultimately promotes prosocial community behaviour.
Our mission at the YMCA action sports is to be able to give all youth the opportunity to trial alternative sports such as skateboarding - if you are interested in running a skateboarding program, we would love to discuss that further with you!
If you would like a quote for the program please complete this form or contact:
Statewide
North
North West
South
All Ages
Primary
Secondary
College
School Opportunity
This course is ideal for teachers, individuals training in teaching and teaching assistants with little or no basketball teaching experience who are working in a primary or secondary education environment. It has been developed to provide learners with the confidence to deliver engaging basketball sessions.
Learners will be able to:
Identify the basic rules of the game
Identify individual and team basketball activities through a game-based approach
Understand differences between traditional basketball (5 v 5) and preferred Sporting Schools model of 3 x 3
Describe how basketball can contribute to supporting development of non sports skills in the classroom.
Duration and format: Delivered in a modular learning format, in roughly 2.5 hours.
Course fees: $20 per person.
Would you like further information ? Please email us at coaching@australia.basketball
Statewide
North
North West
South
Primary
Secondary
Professional Learning
The Butterfly Body Bright program brought to you by Butterfly Foundation, supports the development of positive body image and healthy attitudes and behaviours towards eating and physical activity in children. Our self-paced staff training is the first step to increasing your knowledge about body image in children.
Offering up to 3.5 hours of NESA accredited Professional Development, completion of the staff training allows you to unlock well structured, curriculum aligned lesson plans for students Foundation-Year 6.
Visit the Butterfly Body Bright Website for full details.
Statewide
North
North West
South
Primary
Professional Learning
School Opportunity
Developed by the International Sport and Culture Association, and co-funded by the Eurpoean Union, the HEPA & HealthyLifestye4All Online Course is a learning resource for physical activity promoters to make the transition to a healthier lifestyle become more achievable for their participants.
Enrolling in the free 5 module course will help you to:
? Understand why health-enhancing physical activity (HEPA) is important for our health and well-being.
? Learn how to design physical activities that can enhance the well-being of your members and participants based on their needs and challenges.
? Take the first steps to deliver and measure the impact of health-enhancing physical activities for a range of different target groups and in different settings.
Visit the HEPA & HealthyLifestyle4All Course – Online Learning by ISCA for full details.
Statewide
North
North West
South
All Ages
Primary
Secondary
College
Professional Learning
Community Opportunity
The Qantas Regional Grants program is back, offering $10 million in support over five years to Australian-based communities and projects that are looking to benefit our country's regional areas.

About the program
In 2019, the Qantas Regional Grants program was launched to help regional communities sustain brighter futures by providing financial, flight and marketing support to charities, organisations, causes, projects and individuals over a five-year period.
Categories include Health and Wellbeing, Sport and Recreation, School and Education, Youth Program, Children and Family and many more.
Who can apply
Entry is open to Australian based individuals, not-for-profit community groups and organisations of any size, who are seeking funding to help enhance the lives of people in regional communities.
Charitable organisations must also be registered in Australia, and endorsed as income tax exempt.
The Qantas Regional Grants program will offer recipients a combination of:
Cash grants
Flights in kind
Marketing support
Judging Criteria
The Qantas Regional Grants judging panel will determine the successful applicants each year. Judges will examine all eligible entries and select applicants that they determine best meet the below criteria.
The extent to which the applicant directly services a regional community need and demonstrates a measurable socioeconomic impact.
The extent to which the applicant can maximise local community benefits in regional Australia with the Qantas Regional Grants Program funding.
The extent to which the project or activity will celebrate and highlight the work of the applicant and help boost the profile and strength of the applicant for the future; and
The ability of the applicant to demonstrate innovation in their project strategy, goals and mission, and how these align to improving their service offering and increasing regional impact.
Visit the Qantas Regional Grants website for full details.
Statewide
North
North West
South
All Ages
Primary
Secondary
College
Funding
Community Opportunity
Reclink and Variety - the Children's Charity have partnered again with the Hobart Airport Marathon to provide students an exciting opportunity to become a Variety/Reclink Mini Marathoner.
This opportunity is targeted toward students in need and would appreciate the free opportunity who otherwise would not be able to participate.
On April 2nd, the Hobart Airport Marathon Festival will take place around the Hobart waterfront starting at PW1. There is the Variety 2km Mini Marathon or the 5km distance for your students to be involved in.
It's easy to join and 100% FREE for students to participate on April 2nd.
There are limited FREE entries to the 2km & 5km distances, so please promote this to students now to make sure they don't miss out on this amazing opportunity.
Please see the flyer below – Variety-Reclink Hobart Airport Marathon - that can be printed and stuck up on your school's noticeboards, making it easy to enter directly through the very visible QR code.
In late March, participating schools wil be contacted with further details on the registration process, bib collection and race day meeting points.
South
All Ages
Primary
Secondary
College
School Opportunity
Community Opportunity
South
All Ages
Primary
Secondary
College
Community Opportunity
27 Feb 2023 - 10 Mar 2023
8:00 AM to 4:00 PM
Online
Sporting Schools offers grant opportunities for primary schools, and targeted grant opportunities for grade 7 & 8 students.
Grants support the delivery of sport-based programs to help students build the confidence and capability to be active for life.
Apply Now: Sporting Schools | Australian Sports Commission (sportaus.gov.au)
Sport Australia has partnered with more than 35 national sporting organisations (NSOs) to facilitate delivery of Sporting Schools programs.
The objectives of Sporting Schools are to improve children's fundamental movement skills to encourage lifelong participation in physical activity, increase the awareness of the value of sport in schools, engage children in high quality sporting programs, connect children with sport in their local communities, and develop the capability and capacity of sport to drive nationwide participation growth.